Update:
I have decided to turn my short stories into a full-fledged novel! I know…I'm really taking a leap of faith here, but Ellen James has officially taken over and I can't get that crazy girl out of my head! I plan to self-publish this novel and will give you more updates as I get further into this process.
I plan to post occasional teasers and excerpts throughout… so stay tuned! If you haven't had the opportunity to read the first short story I posted see the links below. I published this one on Smashwords and it is free of cost!
The Infamous Ellen James: Short Stories and Secrets of an ER Nurse
By N.A. Alcorn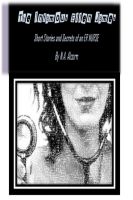 Meet twenty-eight year old Ellen James.
Sarcastic, feisty, foul-mouthed ER Nurse.
She is snarky, sassy, and sometimes quite outlandish. After a terrible breakup, Ellen has promised herself that she will never make the mistake of falling for another physician again. Once she meets Dr. Trent Hamilton this promise is quite hard to keep. He leaves her breathless, speechless, and irritatingly turned on. He makes her fantasize about him in all kinds of inappropriate ways.
Ellen will find herself in crazy situations that include epic YouTube videos, drunken shenanigans, a doctor with ill-timed outbursts,one too-hot-to-handle trauma surgeon, and many many more!
This is a series of short stories that are meant to be read chronologically. These stories contain profanity, explicit sex,and a whole lot of sarcasm
Warning:
Do not read these short stories if you are under 18 yrs old.
Do not read these short stories if you are easily offended by a sarcastic sense of humor,  foul-language, or sexually explicit scenes.
Who should read them?
Do read these stories if you find jokes about vaginas, dirty pirate hookers, vibrating anal beads, and being "taken to pound town" funny!
Do read these stories if you enjoy a good dose of smut every now and then!
How I picture Ellen and Dr. Hamilton….
Ellen James. Beautiful 
Dr. Trent Hamilton. Yum!
Please enjoy the first of hopefully many short stories about Ellen James. Feedback is welcome. If it's good feedback please let me know asap! If it's bad feedback, well keep your god damn, good-for-nothing opinions to yourselves. Just kidding 
 All feedback, good and bad would be much appreciated!
Well, what are you waiting for?!?
Click here to read The Infamous Ellen James